I purchased some jackets and coats from Zara online "special price" section to try. In the past, I have purchased coats and jackets from this section and it has last me for awhile now – a wool mix coat going 4 years and strong! I did not bother purchasing the items with no front closure i.e. buttons or zips in the front as I don't see them working for winter. For the rest of which I did purchase, there were some items which were of not of great quality or fit which I have returned but there are a few pieces that I did land up keeping which were as follows:
Zara Parka with Removable Faux Fur
It comes in dark blue and khaki (click on the colour to be linked to the item). I paid £29.99 for this jacket but when I peel the top most sticker on the price tag, I could see that the original price was £59.99. What is great about this jacket is that it is so functional – you can use it for colder weather/ winter and also for the breezy days in autumn and spring due to the removable padded lining.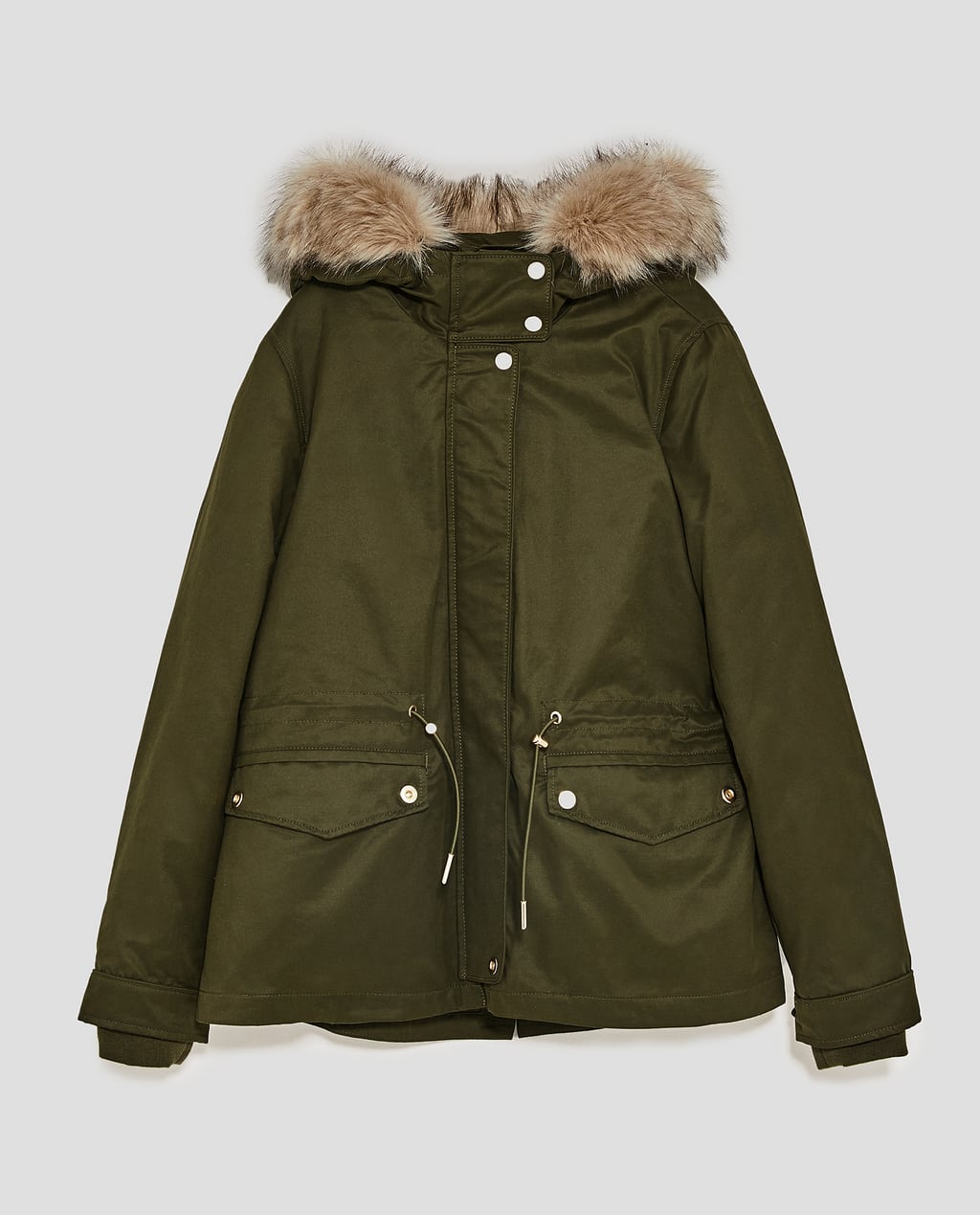 It of good length – sits at the hip and adjustable drawstrings at the waist to give it shape. It also has a faux fur detail on the hood which is removable using a zipper which is discreetly hidden. This is true to size i.e. a size M would fit a size UK 12.
The Zara tag can be found on both the jacket and the removable lining – in fact, I don't see why the lining cannot be used a padded jacket on its own.
Zara Faux Suede Biker Jacket
This comes in four colours; black, brown, deep red and ecru/ivory (click on the colour to be linked to the item). Similar to the jacket above, I paid £25.99 but when I peel the top most sticker on the price tag, I could see that the original price was £49.99.
This biker jacket is hip-length and features a mandarin collar with snap button, long sleeves with zipped cuffs, front zip fastening, front zipped pockets, a false pocket and belt detail on the hem. The jacket seems to be a slim cut so I would suggest going a size up than you would normally i.e. a size UK 12 should go for a size L.
I was debating between the red and brown colour until I notice the a tag on the garment warning that colour transfer may occur. On this basis, I did a test on a white cloth and noticed that the red transferred a lot even with slight pressure whilst the brown transferred only with rigorous rubbing.
Even the cheaper brands under Inditex are selling similar jackets at a higher price. For example this Pull & Bear faux suede biker jacket for £39.99 – you can find it here.
 Faux Fur Jacket
This jacket comes in black and ecru/cream. Just like the above items, the jacket was originally priced higher before it was listed under the special price section for £29.99.
The jacket is really soft and comes with side pockets and front fastening. It runs a size up so I suggest going for a size smaller than you would normally buy outerwear i.e. if you are a size UK 12, then go for the size S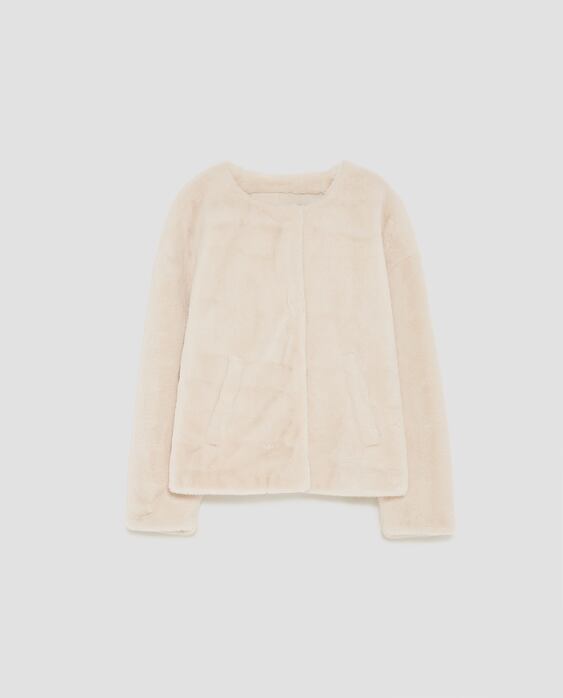 Quilted Jacket with Textured Hood
This jacket comes only in black and is priced at £25.99 which is great given that the main lining is made of 70% grey duck down and 30% feather. This puffer jacket features a hood with removable texture and side pockets with zips hidden in the seams.
Short Contrast Coat
This jacket comes in grey and beige marl and was briefly priced at £79.99 on their website before being re-priced at £29.99 (I reckon someone mistyped "2" and "7" as I don't see how this coat could cost that much given it is short and is from the trafaluc range). The special price is great given that the main lining is made with just over 50% wool. This short coat has contrasting quilted interior and the front pockets have a flap with press stud fastening.